Cape Town, South Africa to Simpson Bay, Sint Maarten
Dec 2021 / Jan 2022
Projected Route: 5495 nm – Sailed Route: ~ 6500 nm
We really had enjoyed South Africa & Cape Town, but we were also really looking forward to sail the last and longest leg of our sail around the world. Upon departure in Table Bay [the bay of Cape Town] we saw a lot of whales. Some were even really close and "waved goodbye" with their huge tails. We had never seen that many whales in such a short period of time before.
The first day of sailing was tricky with lot of wind variations. First we were in the wind shadow of Table Mountain and the mountain range and then there was a lot of wind and current. And it was cold at sea [we are still warm water sailors, especially myself…]. Nevertheless we were happy to be at sea and also to sail from the inside helm with the doors and windows closed. We slowly adjusted to the rhythm of double-handed offshore sailing for a long passage. For each of us this meant two hours of watch, two hours of sleep and than start over again…
After a couple of days we decided to sail towards St. Helena as it was almost on the way and we wanted to get a short rest to fix a couple of minor items on board. It was just so much more efficient and practical to do those works at anchor other than trying to struggle under sail at sea. Moonwave also got a good rinse after the salty trip up north and we got two nights of proper sleep. We did not complete the entry procedure of St. Helena. It would have been nice to visit this remote South Atlantic Island that once was home of Napoleon – maybe next time.
After two nights at anchor in front of Jamestown [Saint Helena], we set sail again towards the Caribbeans. On the second day, we were sailing along nicely, suddenly Moonwave came to a stop and the whole boat was shaking. We immediately knew that we had hit something. When looking behind the boat we saw a big black "shadow" on the surface with a fin sticking out. We were not sure if it was a whale or a huge sunfish. We removed the rudder to check for damage and there was a small dent from the impact. We also had to bolt down our rudder bearings as they had been slightly dislocated during the impact but luckily no major damage. But what a shock – we often read about racing boats hitting mammals and other items in the open ocean but we did not realize that it could actually happen to us as well. Overall despite being "shocked" we have been lucky as no major damage happened
In the first couple of days after our stop in St. Helena we had a second incident and we were only making "slow" progress. We could not use our Mainsail – the main motor of Moonwave – due to a problem with an hydraulic ram. We had first to dismount, take apart, check, reassemble and refit the ram in the boom again – which took us a couple of days. Luckily the seas were calm and Sebastien is not only a great captain but also great engineer. We were able to repair and reinstall without too much trouble. So I guess we are part of a selective group sailors that have taken a "10t hydraulic cylinder" apart and put it back together in the middle of the South Atlantic :-) After a couple of days we were back on track with mainsail hoisted and sailing towards the sunset[s]…
Milestone #1 of the Crossing
On the 11th of December we reached a milestone of our circumnavigation – the Meridian 0 Degrees East/West also know as Greenwich. Back in October 2020 we had crossed the "Anti-Meridian" and passed from West to East and lost "a day" by passing the Date line. Now we crossed back from East to West and had regained 12 of the "lost hours".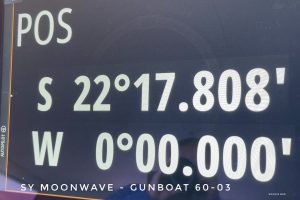 Sea Water Temperature & Fishing
I kept a close eye on the sea water temperatures. We started at 12°C in Table Bay, South Africa, in St. Helena we had 21°C and the temperatures were rising the further we ventured North. The main reason I checked and kept log of the sea temperatures was for "fishing". As soon we hit 24/25°C we did put the fishing lines out in hope to catch a nice fish for dinner. We are more "used" to tropical waters and fish like Mahi Mahi that are mostly found in warmer waters. I would have never guessed that I would be such a long wait to finally catch a fish. The water temperatures had already raised up to 28°C and went back to 27°C in the Norther Atlantic when we finally caught a nice Mahi Mahi. We had one on the line a day earlier but the line broke just at the rear of the boat – even more frustrating as it had taken us at least half an hour to reel it close – this fish got lucky, we didn't.
So to sum up, we didn't catch any fish in the South Atlantic Ocean, but we crossed a big fleet of "Chinese Fishing Boats" with at least 12 AIS beacons in the middle of nowhere. And in total we only caught one fish in the Northern Atlantic. I might have to mention that we are often a bit too fast for the ideal trawling speeds, so that might also explain our non-success of catching fish.
Talking about speed, we only crossed a couple of cargo ships but one stood out. This cargo ship was steaming along northbound at 20knots. Nowadays most tanker and cargo ships we have crossed on the our trips are sailing along at around 12knot so this one was really in a rush and or must have had very time sensitive cargo on board.
Tradewinds
The Tradewinds in the Southern Atlantic were not very strong but steady. We kept a close eye on the famous Doldrums – called Pot-au-Noir in French – as this part of the Intertropical Convergence Zone has a certain reputation. Some boats [even during races] get stuck in light and confused winds for days. We managed well without any use of our engines to sail along in the light winds. Just when we thought that we were done with the doldrums, we had a very busy night with one squall hitting us after an other. There was no way around them. And it rained a lot. This was actually the first big rain shower of the trip and we were looking forward to Moonwave getting a good wash down. Only the next morning we noticed that the salt was washed off but it was replaced by black residue all over the deck. The rainwater was not clean at all – such a shame to find heavy pollution even in the middle of the Atlantic Ocean.
Milestone #2 of the Crossing
It was time to leave the Southern Hemisphere behind us and to return to the Northern Hemisphere with a passage of the Equator. This was our fourth crossing of the Equator since departure from the Caribbeans in March 2020. The first Equator crossing was close to the Galapagos Island, when we first "introduced" Moonwave to the Southern Hemisphere. And than we crossed North and back South during our crossing of the Indian Ocean while following favorable winds and currents.
Also this time, Neptune got a nice shot of rum for a safe passage. And as recommended by the South African Fisherman and our neighbors in Mosselbay, we offered Neptune some 'leftover' coins from our previous destinations. I always enjoy to learn about seamen traditions and beliefs and if it doesn't help, no harm is done neither.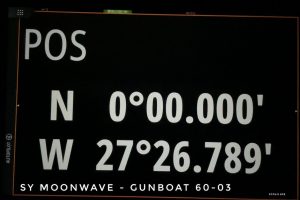 Distances & Currents
Back in the Northern Hemisphere, it was still a long way towards the Caribbeans. We really only realized then how big or let's even say gigantic Brazil really is. It's one thing to look on a map and an other to actually cover the distances. We crossed some of the outer Brazilian islands but in general we had been sailing along the Brazilian coast – in a far distance – south to north for a very long time, and then we had to round the "corner" and sail east to west along the coast.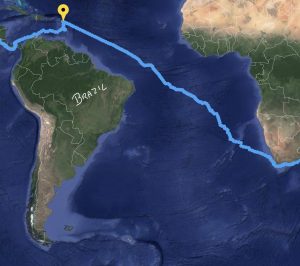 By the way we did encounter the gyre of the current that hug the the north shore of South America bringing up to 3.5 knots of current against us for two days. Luckily Moonwave is a fast boat and we still kept moving at nice speeds in the right direction but such current is still very annoying. Sebastien had checked the currents at our departure from Cape Town and calculated a route to avoid this current. But with our trip taking some time, once we reached the area, a second gyre of current had established and we went right into it. For those who sail along the East Coast of the US, the Gulf-stream is of similar strength and it is well known that beating against the Gulf-stream is no fun. Anyhow we managed to escape the current and finally benefit from the North-Eastern Tradewinds. We have been sailing along nicely on stbd tack for days. Only getting slowed down by "Sargasso weed" – lots of it and getting rained on with flying fish. We had to keep the front doors shut to keep the flying fish out, some tried to make themselves at home otherwise. And our trampoline worked almost like a net for them – unfortunately they are not very tasty.
To sum up, when coming closer to our destination in the Northern Antilles, the weather and wind got more unstable and traffic increased. One night we crossed a small sailing catamaran with owners from New Zealand who sailed from the Canaries [Spain] to Martinique. It was fun to chat on the VHF radio with them as they were planning to sail all the way to South Pacific and New Zealand this year. They were really impressed that we had managed to sail around the world in those challenging times.
The last three nights and days were the most difficult of the trip, there was more traffic, more squalls and less stable winds [but less flying fish]. Especially on the last day with St. Barths and Sint Maarten already in sight, we had to adjust the sails non-stop due to the unstable weather. But we made it safely to the anchorage in Simpson Bay, Sint Maarten. It almost left like coming "home". Our last stay in Sint Maarten was Jan/Feb 2020 – so only two years ago and it's great to catch up with friends again.
Here are more pictures from the crossing…