Island Paradise in the Indian Ocean 
March to September 2021
The Seychelles have been a great destination for Moonwave & her crew. We arrived the same day as the country opened again, restaurants and shops were open and life was almost normal again. In March/April the temperatures have been hot but as soon as the South-East Monsoons started, the breeze arrived.
The local population was very friendly and we felt welcome. We met great locals, some of them we miss already and there was a small but "quality" community of cruisers.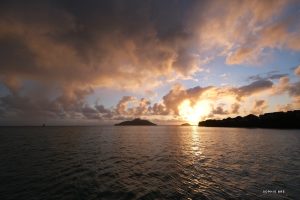 The main island of Mahe is quiet small compared to other islands we have visited in the past and the whole population of Seychelles is only 90.000. But we never got bored. There is a lot to do on and in the water and several smaller and bigger islands to visit. And there is still so much to see that even after spending 6 months, we will be back one day for sure.
The Seychelles cover a very vast territory and we stayed around the main island, called Mahe, and the "Inner Islands". The islands around Seychelles are almost countless and most of them are parts of National parks and Nature Reserves. Seychelles are mostly famous for the "Giant Aldabra Turtoise" and the "coco fesse" a coconut in shape of a butt ;-) But that's far from being all that the Seychelles have to offer. The creole cuisine is delicious, beaches are one more beautiful than an other and the underwater world is full of colorful fish and coral is recovering from a difficult past.
Some of our favorite spots were the sandbank in the Nature Reserve of St.Anne, just minutes away from the main marina. And North of the island of Praslin, we really enjoyed the picturesque anchorage next to the tiny island of St. Pierre. And the beautiful sunsets on the west coast of Mahe like Port Launay, Beau Vallon and Baie Ternay.
During our stay in Seychelles, Moonwave got a "spa treatment" at the local yard with a new bottom paint and lots of touch ups and improvements. The yard had a big Traveller lift which made the haul out easy. Getting items shipped to the boat was often a paper intense and complicated procedure, luckily our agent helped us out.
We really enjoyed the relaxed atmosphere of the Seychelles and the heartily welcome. The cruising grounds are enormous and it's up to you if you want to do only short trips [Inner Islands & Mahe] or explore uninhabited paradises in the outer islands and atolls. 
We can only recommend the Seychelles as a cruising destination and would have loved to stay longer but "the show must go on" and our round trip is not finished yet…
Let us know if you are interested in further details about our time in Seychelles.
P.S.: The southern Indian Ocean has pretty amazing sunsets and sunrises & lots of fish…