France, April 2018 – Seychelles, May 2021 
Total: about 40.000 nm
About two years back, I published an article with the title "One year feedback of the New Hybrid System" back in May 2019. Now it's time to give a "Three year/40.000 nm feedback" of the Hybrid System on board Moonwave.
We often get asked about the hybrid system. We can answer honestly that we still believe in it and we are very happy about the installation on board Moonwave. The system has been used for three years non-stop. We crossed three oceans and sailed over 40.000 nautical miles. We made it "3/4" around the world so far in style and comfort. Already those figures are speaking for themselves. [Check out our recent articles about our adventures on www.moonwave.com/news]
To give a bit of background history, this is not our first hybrid installation on board Moonwave. Over the first years we had different systems/versions installed.  This means different batteries & voltages, generators/range extenders, motor/engine technologies and auxiliary equipments. We worked closely with Torqeedo for the development of the Deep Blue Hybrid System for years before installing the complete Deep Blue Hybrid System on board Moonwave. One of the key points of the success is and was the proper planning and integration of all the equipment on board. We kept access to the equipment and maintenance requirement in mind as well as the weight distribution on the boat. The key components and systems are installed and in daily use since April 2018. 
You might ask now: what are the key components of the Deep Blue Hybrid System on board Moonwave? 
We have two [2] electric [25KW] Torqeedo engines that come in the shape of "saildrives". Those engines are getting used for propulsion but also for hydro-generation when under sail. The saildrives legs [the parts under the water] have been upgraded to titanium ones for a smoother transmission. The saildrives are fitted with nice folding propellers, that work great in both motoring and regeneration mode.
The electric engines have been swapped out recently and are on their way back to Torqeedo to be checked by their quality control and R&D department [research & development]. Those original electric motors were "prototypes" and after so many nautical mile, it's great to see them sent back to the test bench. The new engines are even quieter, smoother and have a bit more torque than the first set. One advantage of the electric engines is their small size and weight compared to traditional combustion engines. We were able to exchange them at the dock in a "technologically" remote place: Bali without any trouble.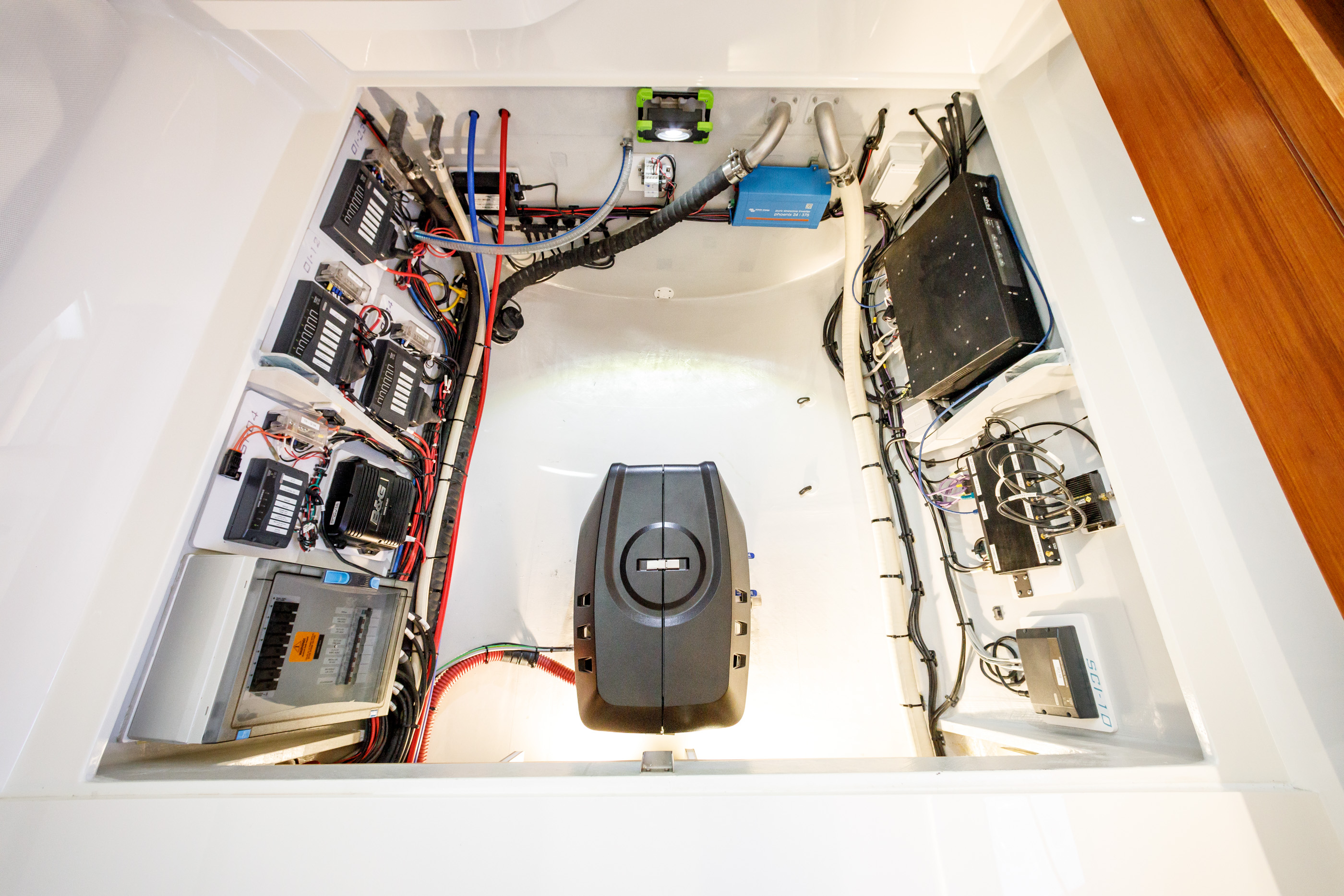 The BMW i3 battery [1] is performing great, it's 400V DC. It got an upgrade back in summer 2019 from the original 30KW to 40KW in the same form and weight factor. The automotive industry does a lot of development and testing. It's great to be able to take advantage of their progress. The battery has it's own cooling system and takes care of itself – no need to check individual battery cells like with the previous systems.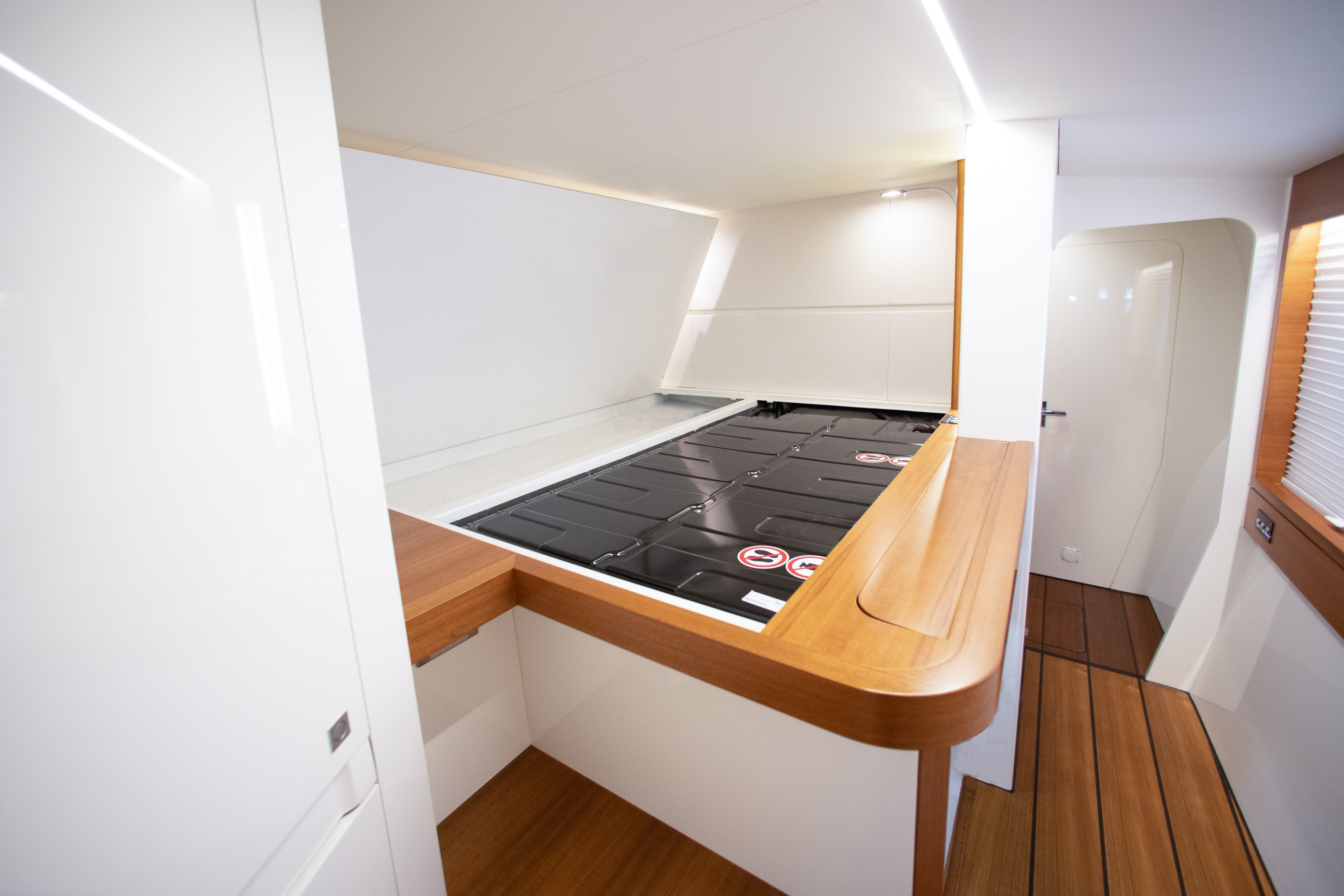 The Torqeedo range-extender like they call the diesel generator [also 400V DC] is the one that gives us the most maintenance. Like every combustion engine it needs oil and filter changes etc. After original "teething issues" the generator is working well now. Anyhow, we like to use it as little as possible. During our recent trip across the Indian Ocean with very little wind, the hybrid system came in very handy: We did some motor sailing to get from one patch of wind to the next. This might surprise but it was extremely fuel efficient. We often just assisted with about 1 KW of power to get a couple of knots of speed to assist the sails and that meant that we could run of the battery for hours, almost days before the generator started and topped the battery up again. This would not have been possible with a conventional Diesel engine set-up.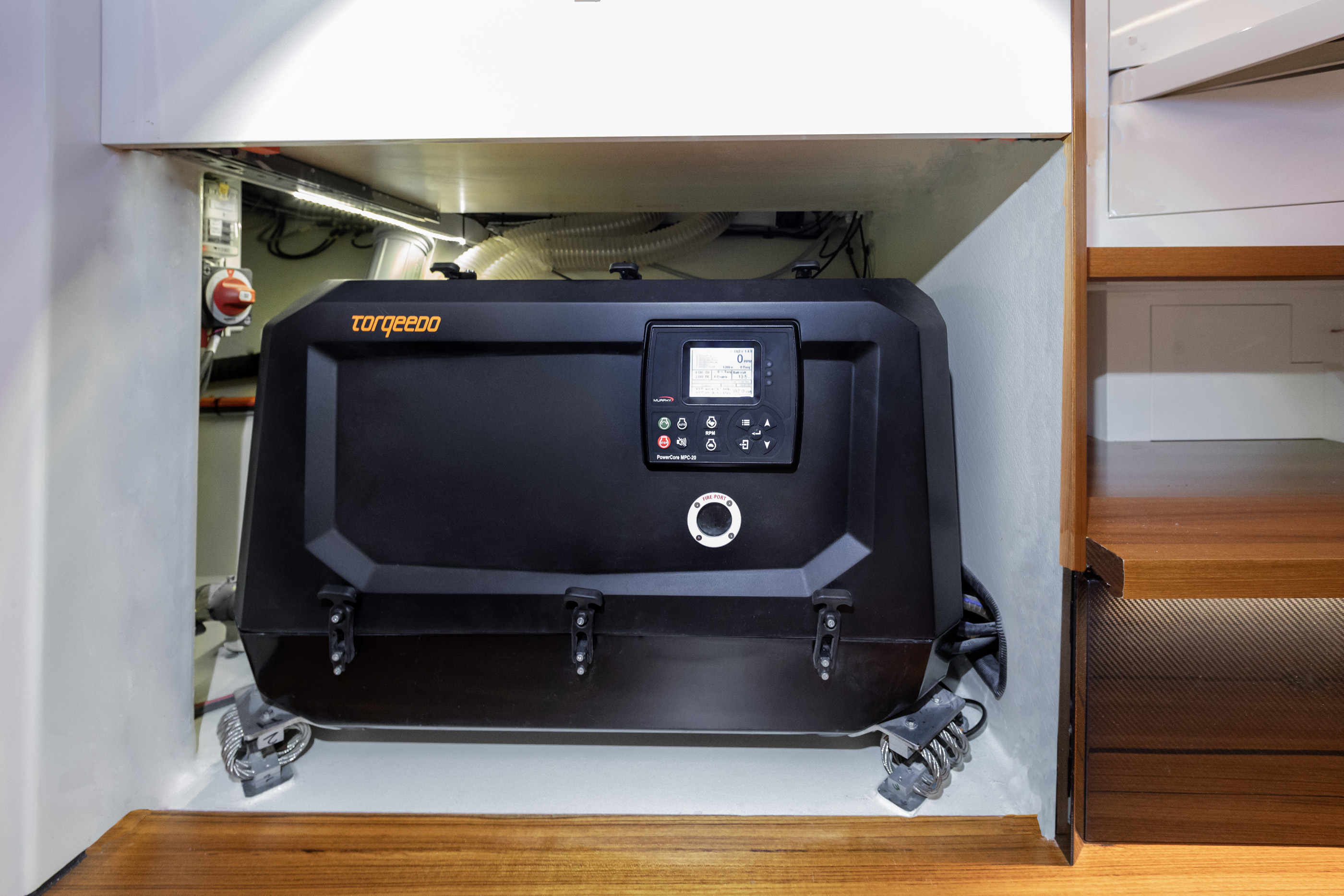 The auxiliary equipment like DC-DC converters, shore power chargers, DC-AC inverter [15KW] are all water cooled, which works great even in hot climates like Bali or Costa Rica – aircooled would just be too noisy and also not efficient enough when it's already very hot outside. 
We still did not got used to the look of the Torqeedo throttle [a black version still would look nice at our sleek navigation & helm station] but the feel of them is still as smooth as on day 1. 
Our 24V house batteries [10 KW] are also provided by Torqeedo and we never even "think" of them as they are part of the Hybrid System and getting charged either by the big battery bank or solar power. The extra power from the solar panels gets sent to the big HV [high voltage] battery when the 24V bank is full. The solar panels are an other development project and there is still way of improvement for future upgrades.
On board Moonwave we have one of the first Deep Blue Hybrid Installations and also the one that has travelled/sailed the furthest. We recently got some Interview questions sent regarding our experience. Our answers will give you further insides of our life on board Moonwave using the Hybrid System on a daily and long-distance basis. [Questions sent by Tobias Moorstedt for Torqeedo]
"How many nautical miles did you sail on Moonwave so far?" – [T.M.]
We stopped counting a while ago – since April 2018 we have crossed the Atlantic Ocean, the Pacific Ocean, the Indian Ocean and several trips to New England, the Bahamas and Caribbeans – with the Torqeedo Deep Blue Hybrid System :-) And before that we cruised South East Asia, the Caribbeans, Bahamas, US East Coast and an other Transatlantic crossing. Let's say we got our "sea-legs".
"Does the experience ever get old?" – [T.M.]
Not a day is like an other – which keeps us on our toes and we rarely get bored. But time is flying by. The adventures with Moonwave have been very "colorful" during the last 9 years.
"In 2020 you crossed the Pacific without being able to stop on many harbors – how did this change the sailing experience?" – [T.M.]
And in 2021 it's the Indian Ocean… Nobody would have expected the world to change that much with such short notice. Our travel plans had to adjust continuously and we have chosen the most adequate destination for Moonwave each time. Seasons and weather don't wait for countries to open and safe shelter is sometime a long distance away. 

Moonwave is a great Bluewater cruising boat and she made the long distance sailing in the available time and weather windows possible. We got to sail many miles due to closed borders. For sure, it would have been great to stop in some of the "paradises" along the way. There are lots of destination in each region that are worth the stop-over & trip. I guess we will have to come back when times changes again. [see www.moonave.com/news for latest stories]

When crossing an ocean, the boat and crew are the main focus and the rest of the "world" almost stands still for time being. We're happy at sea, let's say it like that.
"Moonwave is prepared for long distances on open water thanks to its design and the energy management system: how does it feel to be so independent from gasoline / water etc.?" – [T.M.]
The most important fact for long distance sailing and ocean crossings is the reliability of the systems and components on board and autonomy. But that's not only the case for sailing offshore. We found ourselves in the situation to spend several months at anchor without access to shore or supplies [see Lifeaboard, Lockdown & Autonomy [March to July 2020 and ABC of Quarantine at Anchor [March t0 July 2020]]. In this case the autonomy and reliability of Moonwave were as crucial. Most of the time people are focused only on the "propulsion" aspect of the Hybrid System, for us the comfort inherent to the hybrid system is the "added value". This is noticeable a lot when cruising and living on board in remote areas. Recently we have spend more than a month at sea to cross the Indian Ocean and we didn't really miss anything in particular. 
"How important is it to you as sailors that Moonwave is an environmental friendly yacht?" – [T.M.]
This is "sad" that you feel the need to ask this question. Sailors in general have always been connected to nature, with a profound respect for it and a sense of humility. A "true" sailor that will operate his diesel powered vessel in a proper sailor fashion can also be very environmentally friendly.

In general sailors and cruisers are conscious about their environmental impact [and their budget]. Sailing along without noise is just a bonus, and sailing/cruising in general is about being in the elements and enjoying the beauty of nature. But this also means "sailing" in accordance with weather and wind patterns and respecting seasons, which sometimes also means taking the time and not going against wind and current or having a fixed time schedule/destination.

So the term "environmentally friendly" for a sailboat is pure "marketing". It all comes down to how you operate the boat.

From our point of view one of the advantages of an hybrid boat compared to a more classic diesel boat installation is that it's an easier way to manage your power onboard. But if you plan to use your sailboat like a motor vessel and like to turn the engines on as soon as your speed drops to 5 knots to do 6 knots plus under power, than this is not for you. In a way it challenges you to put the sails up and become a better sailor [in a good way]. In simple term, a boat can not be environmental friendly it is just the guy in charge that will or will not be conscious of its environment.
"How does it change the routines on board compared to a conventional yacht?" – [T.M.]
The hybrid system and high battery capacities bring a lot of comfort to the life on board. We can run all the appliances from the inverter. No need to run a generator or motor to either produce water, run the washing machine or cooking. The electric cooking is also very nice and has the advantage that we never run out of cooking gas.
"How much green energy can be generated through solar panels or hydrogeneration on an average day?" – [T.M.]
It's not possible to generalize as this depends a lot on the wind conditions. We have done whole passages of 1200 nm without a drop of fuel – see article Delivery – we did it again. And we spent several days at anchor with all comfort without running the generator – see Lifeaboard, Lockdown & Autonomy [March to July 2020 and ABC of Quarantine at Anchor [March t0 July 2020]. During our last passage from Bali to Seychelles we were having very light winds. When there was some wind, it would have been possible to regenerate with the hydro-regeneration but we preferred to use the little wind there was to make way and minimize the time at sea. Don't get me wrong the loss in boat speed is minimal but in light winds, each knot counts. We didn't want to be delayed and "miss" the next weather window on the way. But at the same time we had the solar panels topping up the batteries.
"How much maintenance work does the system require? Please guide us through a typical day?" – [T.M.]
Guess what, on the Hybrid System side, the most maintenance comes from the diesel generator. Glad we do not have diesel propulsion system ;-) Other than that it's important to keep all the sea strainers clean and pumps running. It is great that this hybrid system is requesting so little maintenance as it frees us some time to focus on other equipment and development of new systems for the boat. 

An other fact which is crucial is the accessibility of the systems for maintenance. And for this I have to send a big shout out to the yards. Most boat yards are of course strained by cost and time which results in the most efficient way for them to install systems but they rarely pay attention to the access for maintenance. Their definition of accessibility is very different from the one of the crew or contractor that actually perform the maintenance.

Otherwise once in a while we get a remote software update from Germany. Than we need to check all the functionalities. Since the installation of the Deep Blue Hybrid System in 2018, we have had a battery upgrade from 30 to 40 KW in the same form, weight and space factor. We have recently received new electric engines as ours were the very first ones and more or less "prototype material". Both swaps have been straight forward and nice improvements. We have also upgraded the saildrive legs to titanium ones. 

The best proof that the system is working is the fact that we are more than 3/4 way around the world with Moonwave and have crossed several ocean. 
"You travel in a team of two – like astronauts on a journey to Mars – what does it need for crew to function like that?" – [T.M.]
I don't know the answer to this questions, we have not been to Mars and are not astronauts. We like to surf big long waves at full moon – Moonwave [lol]. Moonwave is a bit like this: she is a dream to sail and on top of this the crew gets along really well. We love our job so I guess anything is possible. Teamwork is important and we can rely on each other. I don't say that it's always easy, especially with big sleep deficits on passages. We are used to be together 24/7 for years; so I guess it first requires cohesion within the crew and with the boat. A love story in other words ;-)
"What's your luxury after long day at sea (a warm shower, a bit of ipad video gaming)?" – [T.M.]
Swimming with whales, sharks, rays, turtles and dolphins, contemplating the most amazing sunsets, visiting amazing remote places and meeting the locals and fellow cruisers… This is our luxury after long days at sea. This is also part of the "environmentally friendly attitude" and where the guy in front of his iPad will miss out on a lot.
"What innovations do you expect in the future fo a yacht like Moonwave? What are you looking forward" – [T.M.]
This is a surprise you will have to follow our stories on moonwave.com to get an answer to this question.
Here are some random pictures from our different travels on board Moonwave. Let us know your feedback and questions in the comments below.
Photo Credit: Flo Hagena, Scott McCook, Sebastien Lafitte & Sophie Brehovsky