Indian Ocean & South. Atlantic Ocean
Oct to Dec 2021
To sail around the world without passing through the man-made Suez Canal, there is only one way… around the famous and mythical Cape of Good Hope in South Africa. But first we needed to get south from Mayotte to South Africa through the Mozambique Channel which has its own reputation.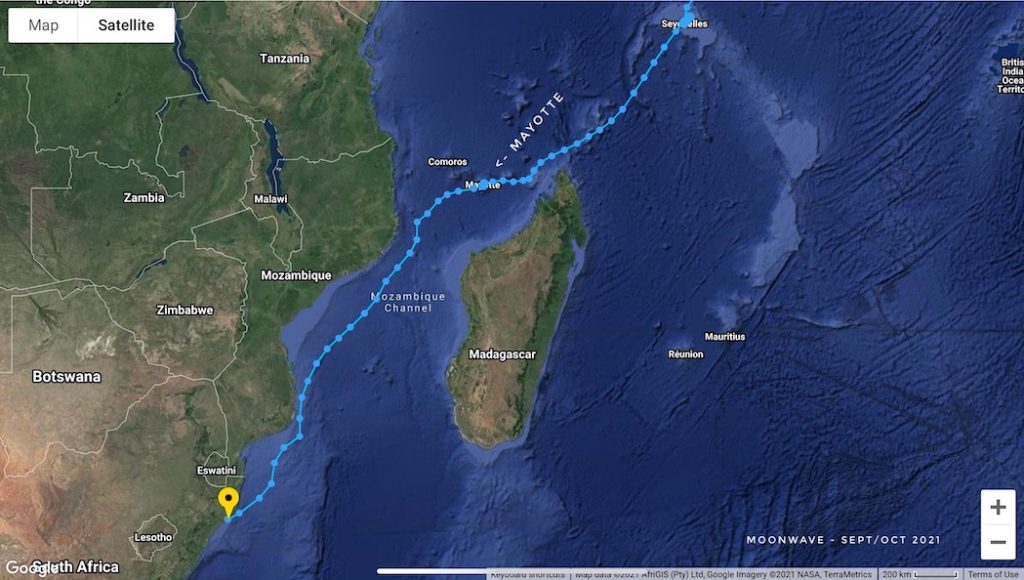 We had a windy and fast ride down the Mozambique Channel towards Richards Bay and Moonwave managed like a champ. As we stayed off the coast we didn't encounter too much traffic neither.
Our arrival in Richards Bay went smooth. We docked at the "Small Craft Landing" and waited for the arrival procedures. During the day it was very hot, well over 30 C but in the evening the wind turned and increased drastically. Not only was Moonwave covered in black coal dust within minutes but also the temperatures dropped to around 16 C. Again this shows that Moonwave's captain Sebastien had planned the arrival and passage flawless as beating against the strong southerly & cold winds would not have been fun at all. After the paperwork was taken care off, we moved to the Zululand Yacht Club. As it was Friday, we were welcomed by a nice South African Braii [BBQ]. Our stay in Richards Bay was only short as a OK "weather" window was coming up to continue along the coast. Just enough time to go see some wild animals close by for half a day. 
For those who have never done this trip, you must know that the winds and currents in South Africa are no "joke". The weather can change very quickly and the winds are much stronger than in our usual sailing grounds. Good planning is a must as there are also not a lot of shelters like protected anchorages or harbors along the coast – especially not for a boat of Moonwave's size. On the other side, we must say that the weather and wind forecasts were very exact in direction and timing. Just add a couple of knots to the wind strength or better base yourself on the "gust" predictions as that's what you gunna get.
The first favorable weather window brought us from Richards Bay to Port Elizabeth [now called Quebera] in just about 50 hours. We docked in Port Elizabeth just in time as the next morning it was blowing over 45 knots of wind in the harbor – they don't call Port Elizabeth the "Windy City" for nothing. We had very nice seafood just next door to the dock. 
Just before the wind turned and to avoid to be covered in dust again, we left Port Elizabeth. The weather and wind didn't allow us to make it in one shot to Cape Town, so we aimed for the next possible stop along the way, a fishing town called Mosselbay. It's not everyday that Moonwave gets tied up to a fishing trawler but this was our best option. The neighbors were very nice but it was not an easy task to get on and off the boat/dock. The fishing trawler was our "floating dock" which was better than the concrete wall. The docks were also full as we weren't the only ones looking for shelter from the high winds and big swell/waves along the southern coast. We still had quiet some swell even inside the harbor and we saw the waves breaking over the big sea wall.
The captain of the fishing trawler was very happy to have us tied up to him instead of an other fishing boat – less traffic through his boat with only the two of us on board and also less weight pulling on his boat. By the way we asked them what they were fishing and the answer was "sardines" in the winter out of Mosselbay and anchovies in the summer in St. Helena Bay on the west coast of South Africa. We shared some of our "French style" Sardine in olive oil cans from Brittany with them to taste as the sardines they are catching are much bigger and end up in round cans with tomato sauce.
Mosselbay is a very busy fishing harbor and we were amazed to see the tons and tons of ice loaded onto the fishing boats with cranes. Some of the fishing boats were 45m meters long – also very impressive. And due to the location and proximity, we had some great fish in the local restaurants. Apparently Mosselbay is very busy during the South African summer season but when we were there it was very quiet.
At this stage I want to thank the helpful locals in our stopovers, we had a great welcome and assistance in each of the locations. And also the local sailors are always happy to share their experiences and stories along this tricky coastal stretch.
From Mosselbay we aimed directly towards Cape Town. The captain had chosen a great weather window again and we had a very smooth passage around the Cape of Anghulas [cap des aiguilles] where the Indian Ocean meets the South Atlantic Ocean. Such a great feeling to have crossed the Indian Ocean in full from Torres Straight to Cape of Anghulas – check out the blog article about our Indian Ocean crossings I and II.
We also passed Cape Point of the famous or infamous (depending if you boat is still afloat) Cape of Good Hope during the night with very calm weather. The Cape of Storms only showed us its nice side…
We almost run out of wind on the last stretch up the coast from Cape Point to Cape Town. And so did the local sailboat race. We crossed many of them which took a lot of attention during the night as some weren't visible on the radar nor on AIS [automatic identification system].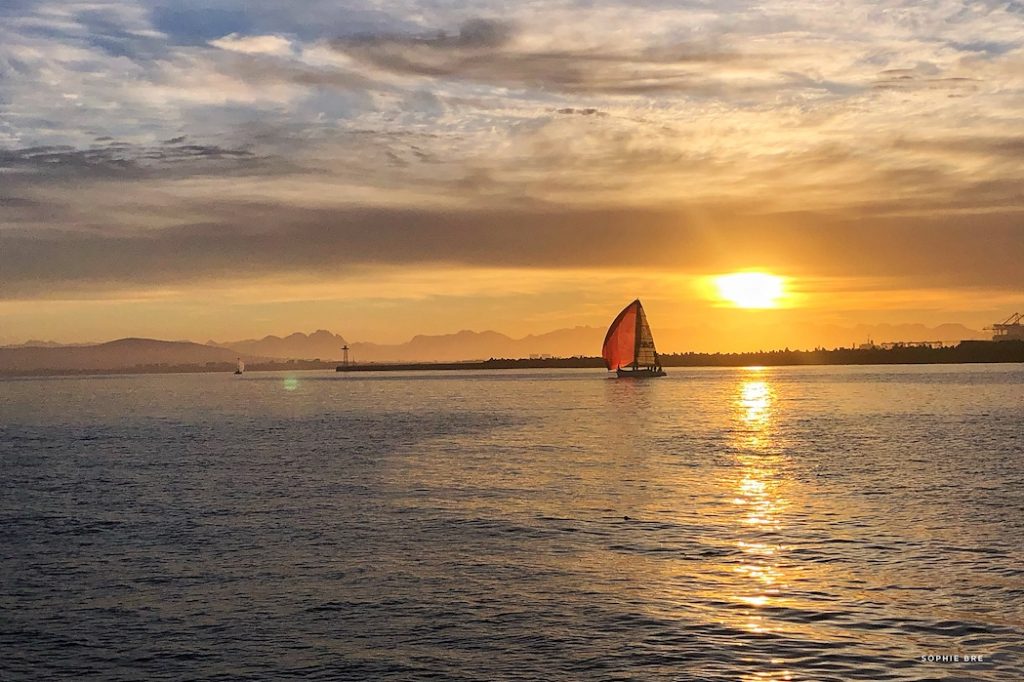 Cape Town and Table mountain welcomed us at dawn with an spectacular view and sky – just magic.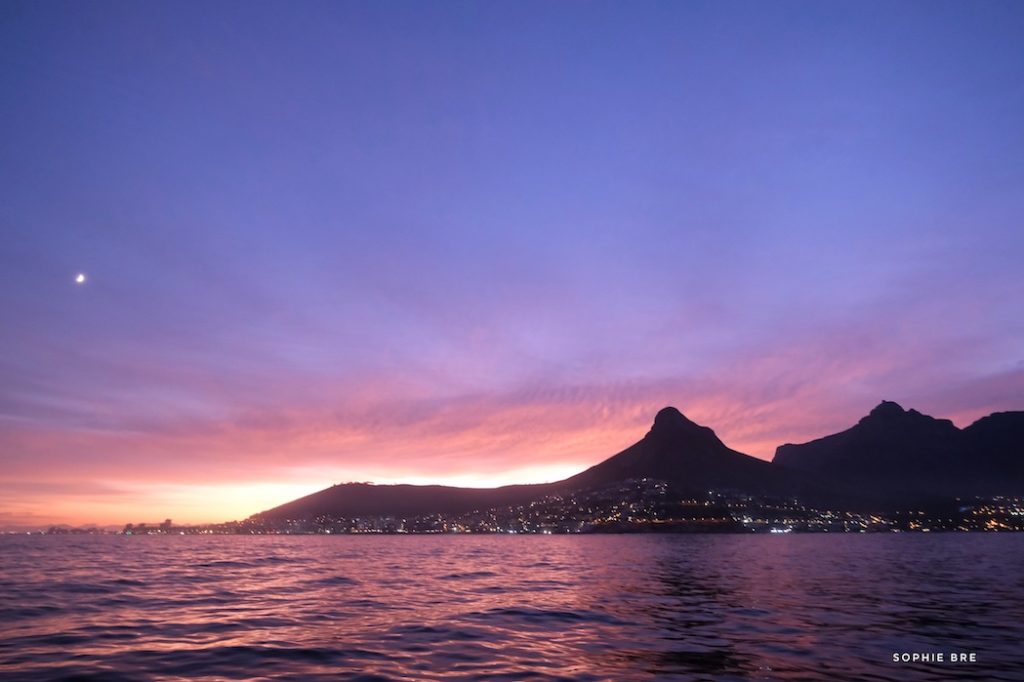 In Cape Town we were docked at the V&A Waterfront Marina in the center of the "fancy" Victoria & Alfred quarter, such an awesome place to stay, with an amazing view at Tablemountain. 
It was nice to be back in a big city as we had spent lots of times in remote island paradises during our sail around the world. So this was a welcomed change. A big mall, supermarkets, tourist attractions and restaurants were in walking distance and the rest of the shops just an Uber ride away. We managed to tick a lot of items from our preparation list for the the last and longest crossing yet to come. It was also great to meet up with friends from the past and recent encounters from the last stopovers. As this was our first time in Cape Town, we also went up to Table Mountain and the Penguins were a must to check out. All in all, we had a great time in Cape Town. When we were ready to leave and cast off the dock lines again, we got involuntarily delayed but that's an other story. 
Our stay in Cape Town and South Africa, definitively exceed our expectations. The food and quality of produce [fruits and vegetables] was excellent, and so was the fish and meat – especially Cape Town is definitely also a culinary destination. We only got to see a glimpse of this huge country and there is lots more to discover in South Africa.
Time for some ocean sailing again – it's a long way towards the Caribbeans to finish the trip around the globe on board Moonwave.