[March 2020] We did it again – we did a great delivery without burning any fuel !!! Last year in May we had a nice trip from Saint Martin to Turks and Caicos [around 600nm] without burning any diesel. This time we doubled the distance. We had a great doublehanded downwind sail from Martinique to Panama.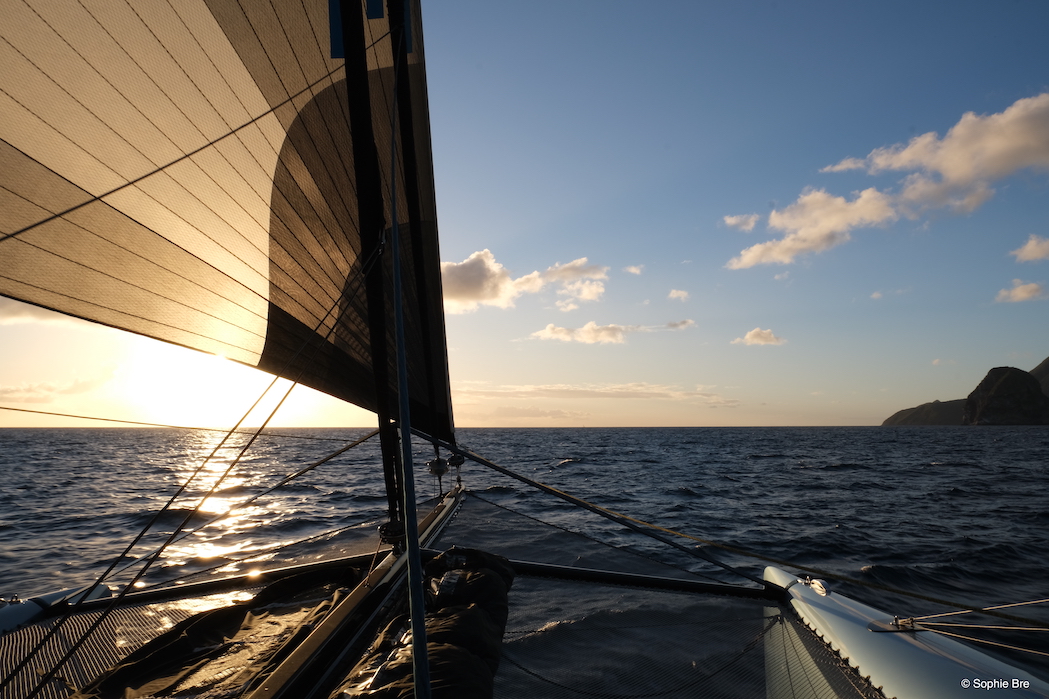 During the trip of about 1200 nautical miles, all our power needs were largely covered by regeneration through our electric engines. When the sun was shining, the solar array also assisted with charging the battery banks. We sailed in full comfort with fully "electric" cooked meals and plenty of fresh water from the watermaker.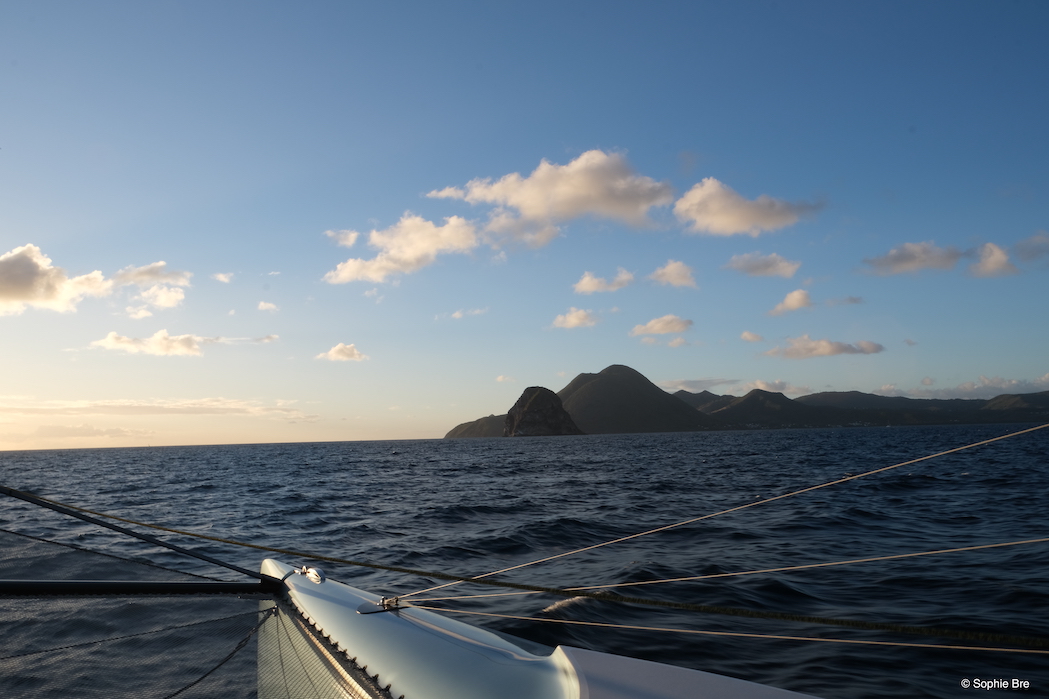 Funny fact, before leaving Martinique, Sebastien serviced the generator and we went to the fuel dock – will use the diesel later for the Panama canal passage where sailing is not allowed …
This achievement is even nicer as it shows how well our actual Hybrid Propulsion Setup is working. It is well designed and thought through for Moonwave and our needs on board.
Recently we talked to a boat owner who was very involved in the past with the development and production of a different hybrid solution. He was curious about our actual system but very suspicious. He would not believe that it works that well. He seems to have lost faith in the possibility of electric propulsion on larger cruising / performance catamarans… he even decided to go back to conventional diesel for his own boat. Unfortunately he is not the only one. We have friends who also work on a beautiful sailing catamaran and they actually expressed the fact that we were the only crew to their knowledge who were HAPPY and enthusiast about our hybrid system and running an electric powered yacht. Also in the medias and forums we find/read often suspicion and lack of trust in the technology. So it's time to change that.
There are several success stories of hybrid propulsion systems for boats spread over the seven oceans ;-) for their yachts/boats. And there are happy hybrid/electric propulsion boat owners/operators. But their voices might not resonate enough. We want to take the chance to communicate that the Deep Blue Hybrid system that has been delivered to us by Torqeedo 2 years and 21,000 nm ago is the way we wanted it and it is working as promised. We sincerely enjoy using it every single day. Today things are changing, Torqeedo being a leader in the domain but other larger and smaller companies investing in this technology. This brings a lot of "professional solutions/options". Also Superyachts get fitted with hybrid solutions on a bigger scale.
Moonwave is a "real-world example" that hybrid propulsion systems is working and effective. We have plenty of comfort and energy available and the regeneration capabilities is really a "game changer". We already crossed the Atlantic in total confidence with the system. Unfortunately we could not make it "zero" fossil fuel consumption back in May 2018. Since then we got our successful attempts. The first one was Saint Martin to the Turks & Caicos in May 2019. And today we just did Martinique to Panama in one shot. Next destination & "target", the Pacific Ocean, it's just at the other side of the canal for now. The world starts to look fairly small when I compare that on land some people go and buy their bread at the bakery around the corner by car & we are about to cross the largest ocean in total comfort without a single drop of fuel/gaz. Pick your future!!!
During our trip to Panama it was also a joy to see our spinnaker flying high and proud. During the recent months we had done a lot, I mean  A LOT of upwind beating so the change of "wind"direction was a welcome improvement…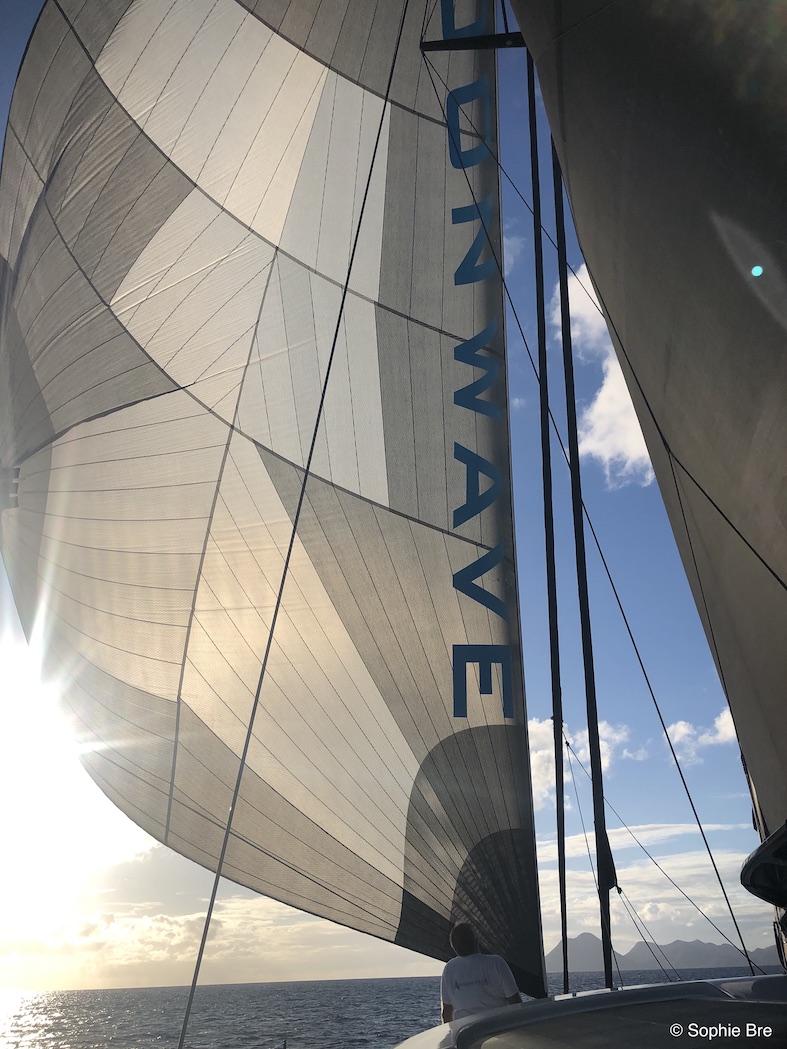 It was very windy off the coast of Columbia, with big and short following waves. We had to "slow" Moonwave down as she "enjoyed" surfing the waves. Too fast for fishing as well… We found flying fish in abundance on the deck, most of them were tiny.
Enjoy some pictures from our trip and please don't hesitate to contact us for further question or leave us a comment below. And check out the other blog entries about our Hybrid Propulsion System.