Sunshine, clear water and beautiful anchorages & beaches -> YES, Moonwave arrived in the Caribbean Islands. 
After a beautiful summer in New England and fall in the Chesapeake, the temperatures were dropping and it was getting dark earlier – it was time to migrate SOUTH again. 
We joined the Caribbean 1500 Rally from Portsmouth Virginia to Tortola in the beautiful British Virgin Islands. It was great fun to be part of the Rally. 
It was nice to meet the crews of the other boats participating in the Rally – a wide range of different boats with lots of nice people and different cruising programs. We also want to thank Mid and Andy and the rest of the ARC team in Portsmouth and Nanny Cay for the great organization of the rally and social events. 
As the rally start was delayed a couple of days, we first went for a "shakedown" cruise in the Chesapeake Bay to make sure all crew members had proper "sea-legs". This worked out great and everyone enjoyed the additional "practice" before leaving offshore. Even in a bit rough conditions like crossing the gulf stream, nobody got seasick thanks to Moonwave being so stable and seaworthy.
With the delayed start, we were already in a hurry to get south, we started a bit a head of the fleet and we also arrived as more than one and a half days first boat in beautiful Tortola – the line honor is ours ;-)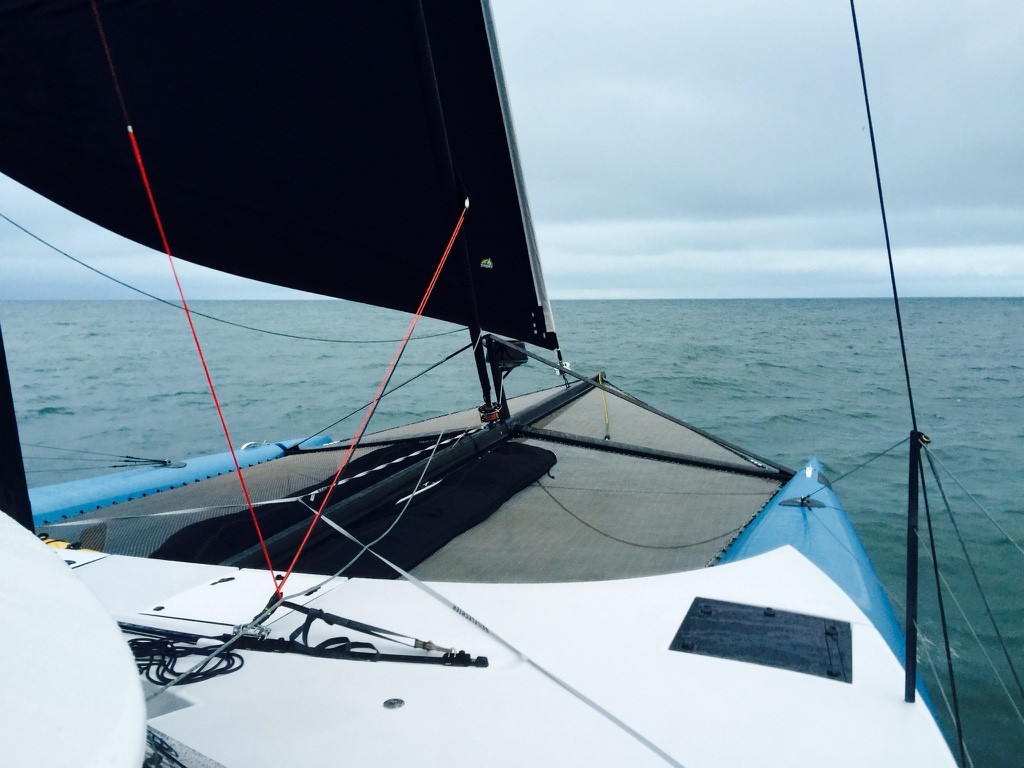 Some more words regarding the passage: Moonwave was "behaving" great – what a joy to glide through the water and surf the waves downwind and also upwind she was making her way nicely and smoothly. We had two days with almost not wind – we were using our big spinnakers to get a maximum out of the little wind available. We played the game of the rally and sailed all the way. During the calm periods some of our crew members went for a swim in the middle of the ocean. 
The life on board offshore on such well equipped and maintained boat is just a real pleasure: hot coffee or lets say cappuccinos or espressos from the Nespresso machine, hot water for nice showers, all amenities that you can expected on a boat of her size, full entertainment system – the time was flying by. When going North to South – cold to warm weather – the choice of being outside and well protected in forward cockpit or inside at the helm-station was also very appreciated. 
Time to time we had to slow down to bring the latest "catch" on board – we caught a couple of nice (and tasty) Mahi Mahi and this time we also had a good size yellowfin Tuna on the end of the fishing rod- delicious. Any small size fishes or species that we didn't recognized were liberated and swam away. Regarding other sea life we saw some whales from far and had dolphins accompany us for a little bit.
All in all we had an amazing crossing and even if some of the crew members had to leave right after arrival – it was almost sad that the great time on board offshore was over that fast ;-) We have just arrived but already looking forward to the next longer deliveries/crossings and maybe join a Rally again as it was great fun. Life at sea is just amazing on a boat like Moonwave. Thanks also to our great crew that came to do the trip with us.
Now it's time to discover the Caribbean – lots of islands to check out, beautiful anchorages and Moonwave's blue hulls just look great in clear turquoise water.
If you are interested in experience the beautiful islands, just contact us for your dream vacation on board Moonwave…