Time has been flying by – some would say that's the case if you have fun ;-) We arrived in the BVI & Caribbean for the first time in mid November after a successful participation in the Caribbean 1500 Rally. Since them we sailed quiet a bit in between the islands and we are lucky as we had some great guests/friends on board and that makes all the difference.
We kind of "skipped" Christmas this year a bit as we were offshore between the BVI and Guadeloupe. Not as exotic as spending Christmas Eve with the Chinese Customs in Xiamen three years ago to leave China for the first time but much more fun to sail in beautiful blue water of the Caribbean. We had quiet some wind and big seas upwind to reach Guadeloupe but Moonwave handled the conditions marvelously.
Sophie enjoyed the "provisioning" in Guadeloupe. The big supermarkets are stocked like in France – lots of European products. Sebastien especially enjoyed the big selection of French cheese that filled Moonwave's fridges afterwards. We met old & new friends in the marina and thanks to Olivier & Ariane we were ready in time for our guests to arrive. If you are planning to stop in Guadeloupe, let us know and we put you in contact with "Guadeloupe Yacht Concierge" as they know the island inside out and have all the good plans & suppliers.
Here I want to mention a funny anecdote: since the build of Moonwave we have a very stylish carbon fiber gangway (passerelle) on board and now after about three years we have use it for the first time. The Marina in Point-à-Pitre "Bas du Fort" uses "Med style mooring" which means that the bow of the boats are attached with mooring lines to buoys and the stern of the boats is attached to the dock only. If you want to protect your transoms and not come too close to the concrete docks, it is of advantage to have a gangway to reach the dock. As mentioned this was the first time we "needed" it and Sophie was very proud to use our lovely passerelle that even features "Moonwave" on it and our guests enjoyed the safe and easy "walk" from the dock on board.
From Guadeloupe we sailed first to the beautiful islands of Les Saints. The islands belong to Guadeloupe and are just a couple of miles south. Those little "gems" are always worth the stop, nice snorkeling, diving, hiking and relaxed atmosphere ashore.
Our next stop was Dominica with its rainforest and boat boys. We moored in the big Bay of Prince Ruperts and were guided by "Lawrence of Arabia" to a mooring ball. The boat boys were all very helpful and friendly but they still try to get a max of money from you and all the prices have to be negotiated first. Our guests went to the National Park and Waterfalls. They also tried to reach one of the summits but the rainforest and the weather didn't agree – it was raining too much and the hiking trail got too slippery.
We got some fresh fruits & fish from the boat boys. Some where paddling over on a kayak to Moonwave to offer us delicious grapefruits and other local fruits. Other had engines on their boats and offered ice cubes and fresh fish. We even saw a guy on a surfboard coming to pick up our garbage. We trades some old T-shirts for fruits and services.
After Dominica we skipped the island of Martinique this time to arrive in St. Lucia for New Years Eve. We had quiet some wind on the sail down to St. Lucia and the channel between Dominica and Martinique was windy and "wavy" but again Moonwave (and Sebastien) did a great job to bring us across safely and fast.
We arrived just in time in St. Lucia for New Years Eve. After a quick stop in Rodney Bay, we opted for the beautiful anchorage in the marine park of the two Pitons. We had a quiet New Year's Eve and enjoyed the fire works close by at the little town of Souffriere. The diving (with the Park Ranger as dive guide) and snorkeling just off the boat were amazing and the water was warm and clear. The coral is full of life which make the dive easy to enjoy. Also some of our guests went to see the hot sources of La Soufrière.
One of the boat boys brought us some fresh lobster for a nice dinner on board and our guests and us welcomed 2016 in a stylish and quiet way on board Moonwave.
This time we had two little boys kayaking over to Moonwave to collect our garbage and we traded garbage removal agains chocolate cookies. As Sebastien was driving the tender to town just after they passed by – he gave them a lift by towing their kayak (almost full speed) behind Moonwave's tender so they didn't have to paddle. They had such a blast and enjoyed it so much that they came back the next day with an additional friend and asked for a ride again after collecting the garbage bags of the boat around us. Unfortunately we had to leave the beautiful anchorage to join Marigot Bay and so they had to paddle again (after getting "forces" with more chocolate cookies from Sophie) ;-)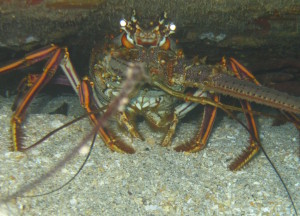 We enjoyed our time in the Windward Islands and there are still a lot of islands to discover. The next time we will make all the way down to the Grenadines.
Now we are back in the Northern part of the Antilles – St. Martin is our first stop and back to the BVI in a little bit. More about our time in St. Martin, Anguilla and the Virgin Islands in my next post.
And hope you all had an as great start 2016 as we had…