Two hulls – Two sailors – One awesome boat – One ocean – 3365NM of Pacific Ocean in between & 14 sunset later…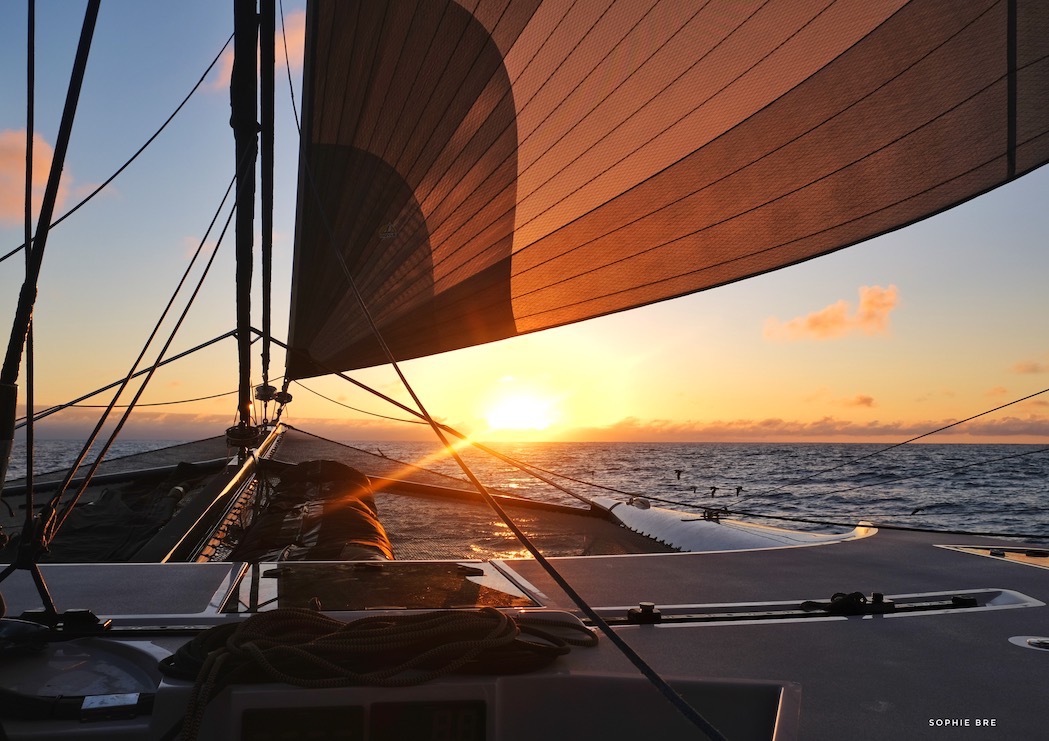 A short summary of certain aspect of our recent trip from Santa Cruz, Galápagos Islands to Nuku Hiva, Marquesas Islands.
In the past we have crossed the Atlantic twice on Moonwave, once from West to East and once the classic tradewind crossing from the Canaries to the Caribbeans. During this trips we were each time four persons on board which allowed for more hours of sleep each. We had done several longer passages only the two of us [see article "we did it again"- Martinique to Panama] but nothing that long before. Luckily Moonwave is well set up for short handed sailing and during the last years we managed to have her reliable and we can trust her seaworthiness. 
The trip from Costa Rica to Galapagos was – to sum it up – upwind. Not our preferred allure but the "price" to pay to join the tradewinds further south later on. You can find out more about our whereabouts between Panama and the trip to the Galápagos Islands as well our short stay in Santa Cruz in separates articles.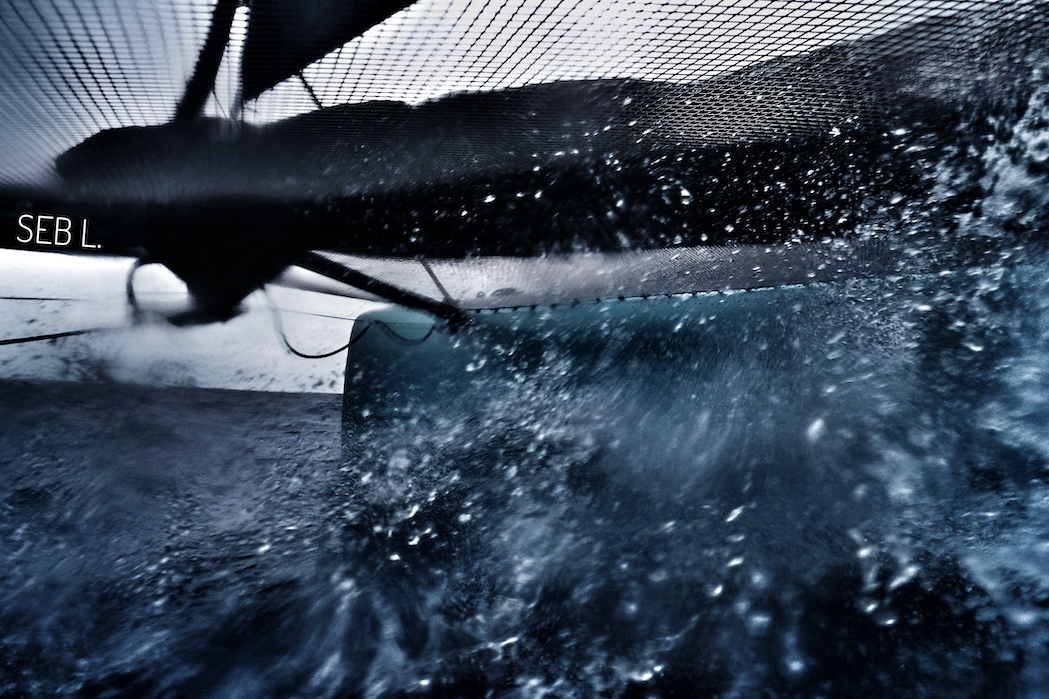 Speed and/or Sleep?
So what does it meant to cross the Pacific Ocean short handed with only two crew? Let's say there is the fine line of compromise between speed and sleep, that might sound strange but let me explain. There is always one of us on watch to keep an eye on sails, wind, traffic and safety of Moonwave – When sailing short handed with two, we do 2 hours on watch and 2 hours off watch when you can sleep. 
During the day with meal preparations and other jobs going on, the person off watch might not sleep and will be around and that is how exhaustion adds up. You learn to live on and be tired and it usually takes about three days to get into this rhythm but under no circumstance you should let yourself reach a state of complete exhaustion where you can not think straight and do mistakes.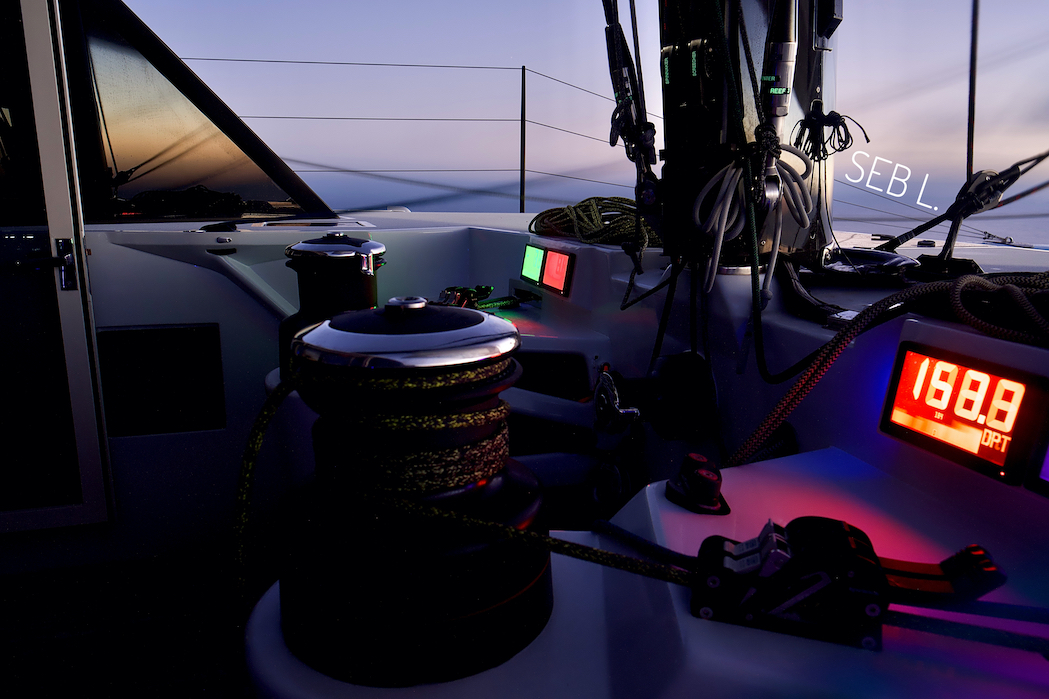 Now to come back to Sleep & Speed, in general the faster we go the sooner we arrive at destination and the sooner we can have a full night of sleep and recover at the anchorage. But sometimes going faster means hoisting the spinnaker doing extra effort for the purpose – so is it worth to gain a couple of knots right away or it might be better to let the other person sleep a bit longer and only do sail-changes during watch changes when both are kind of "awake". This only counts for "upgrading" sail-areas, regarding reducing sails if the wind increases or squalls are in approach, no privilege of sleep counts – safety and The boat come first. Also the risk of breaking when you go faster is greater as loads increase. And then you loose time repairing so being vigilant and not over pushing is crucial. In another hand don't think going slow will make it easier and safer. It is actually speed that give you the choice of where to sail through and within the different weather systems in order to be quick and not put yourself in high wind situation where you will exhaust yourself even faster. So you as you can see it is not all straight forward and require good judgment in order to put the extra effort only when required.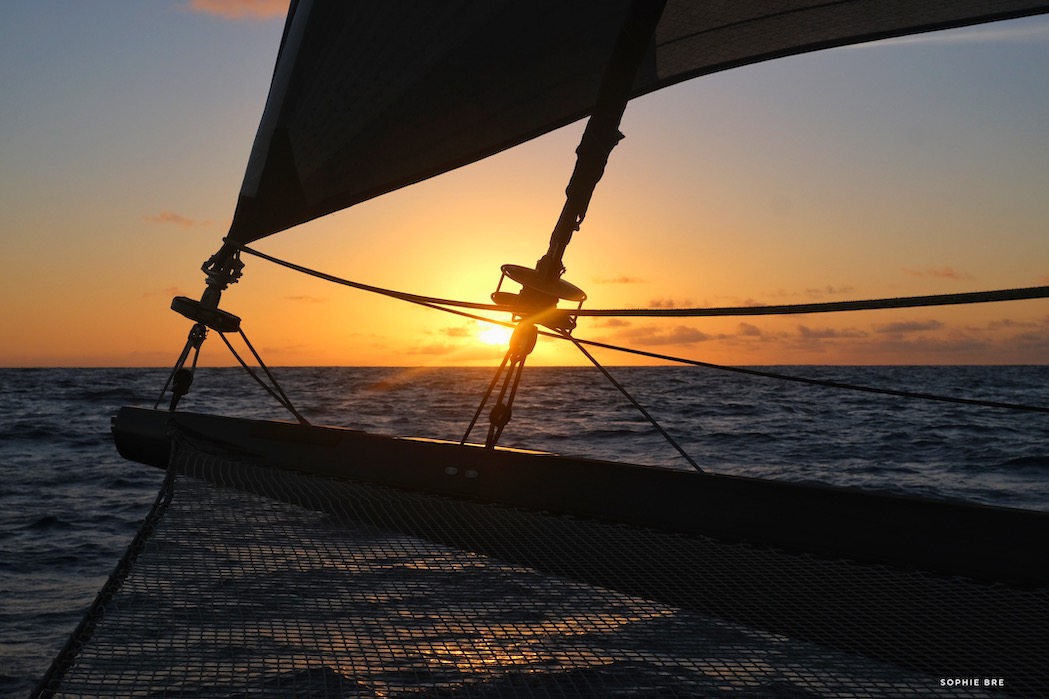 There is a similar compromise between Fishing & Speed on board. Going fast means no fish or too big fish. We lost one hook and one complete lure [with steel cable at the end] to "big fish" – we saw the line getting in tension and than it was gone.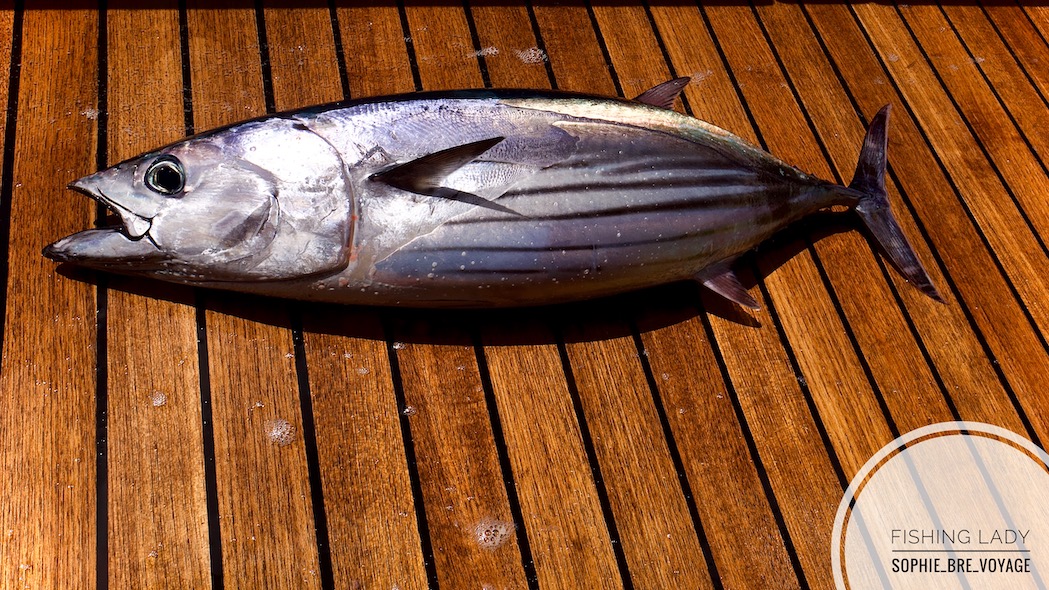 Timekeeping on board
We have been asked if we did adjust to the change of time zones going westwards during the trip. To be honest, we had no clew which time zone we were in at any given time [other than departure and arrival]. But the sunrise and sunsets were sliding throughout the two week trip. To know the actual geographic time, we just didn't bother to calculate or checking. Our philosophy is to adjust to the local time upon arrival. No jet lack in traditional meaning will be noticeable as sleep deprivation is more important and a couple of full nights sleep put the body clock back in order. We mostly live by the rising sun all year long.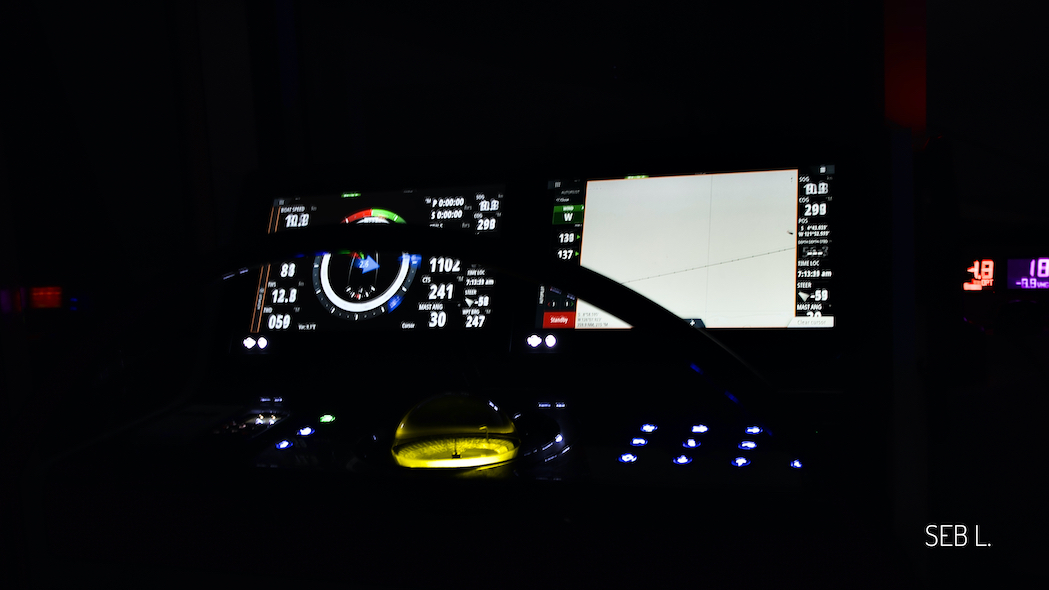 The ships clock gets set to GMT during the crossing and times of the day are just "figures". It helps to use an "analog" watch so midday and midnight are just a question of interpretation. To avoid confusion, it's important to deactivate all "automatic time zone adjustments" via GPS on electronic devices. When doing two hours on and two hours off watch, it doesn't make much difference to what time the ships watch says. You are either on watch or you aren't. 
We base our meal timing by the sun, always trying to have dinner before sunset. Cooking and doing dishes with natural light is so much more "fun". 
One nice feature with this "fix" time schedule is that the sunrise and sunsets "slide" during the watches. This means that it's not the same person having the privilege of the sunrise during their morning shift. 
The logbooks gets filled out every hour so there is also no possible source of confusion.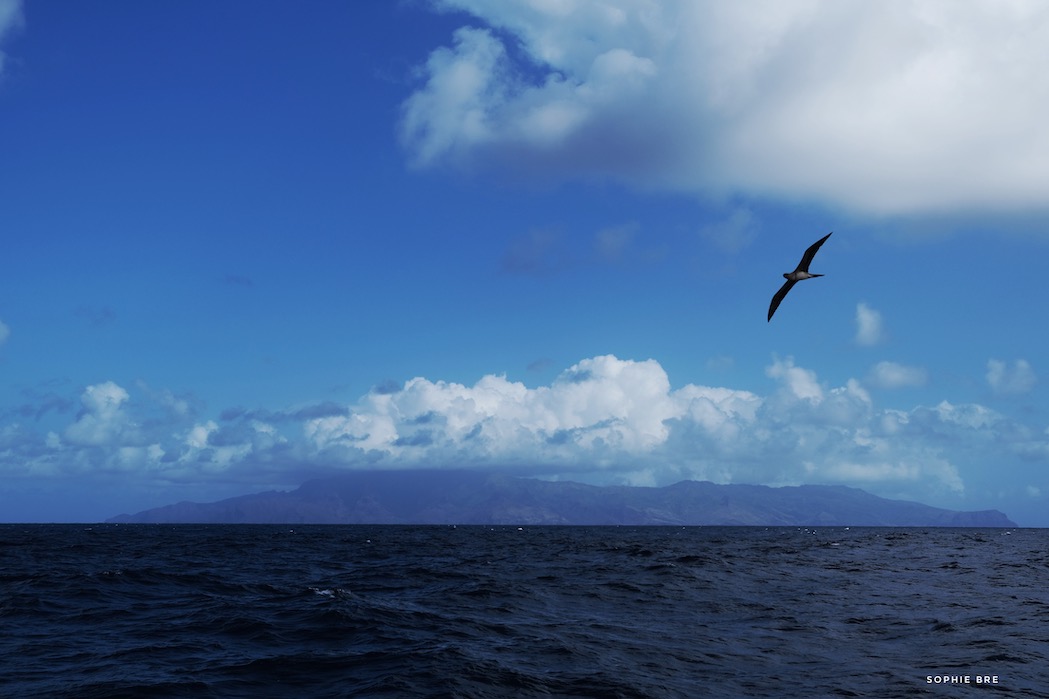 More info about different aspects of our crossing to follow in separate articles – so keep checking in…