We recently spent some time in the Bahamas, this beautiful cruising grounds are know for its shallow waters and the turquoise colors. We have often got the question of Moonwave's draft to be able to cruise the shallow waters.
The daggerboards are easy to spot – they also have markings of how much is sticking out under the boat. When they are up – only about a feet sticks out under the hull which gives us about 1.2 m / 4 feet of draft. When they are down completely, we draw almost 12 feet/3 m. Did I mention that our daggerboards are super stiff and light made out of prepreg carbon fiber. They are almost 6.3 m long and only weight 105 kg [sorry metric measures are easier for me].  More information on our daggerboards – Moonwave New Daggerboards: http://www.moonwave.com/moonwave-new-daggerboards/.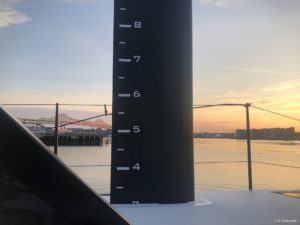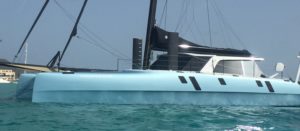 Our new titanium sail-drives for our electric engines are positioned in the aft and they also give us a bit less than 4 feet of draft with the prop open. This is the reason why we made the daggerboard slightly longer to protect them. 
The only other item that also sticks out under Moonwave's sleek hulls are our rudders. Luckily they are retractable and even removable which gives us the option to raise them in shallow waters.
The rudders themselves are about 2.5m long. When at the dock, we often just lift them and keep them on the trampoline to prevent marine growth on the nice orange paint finish.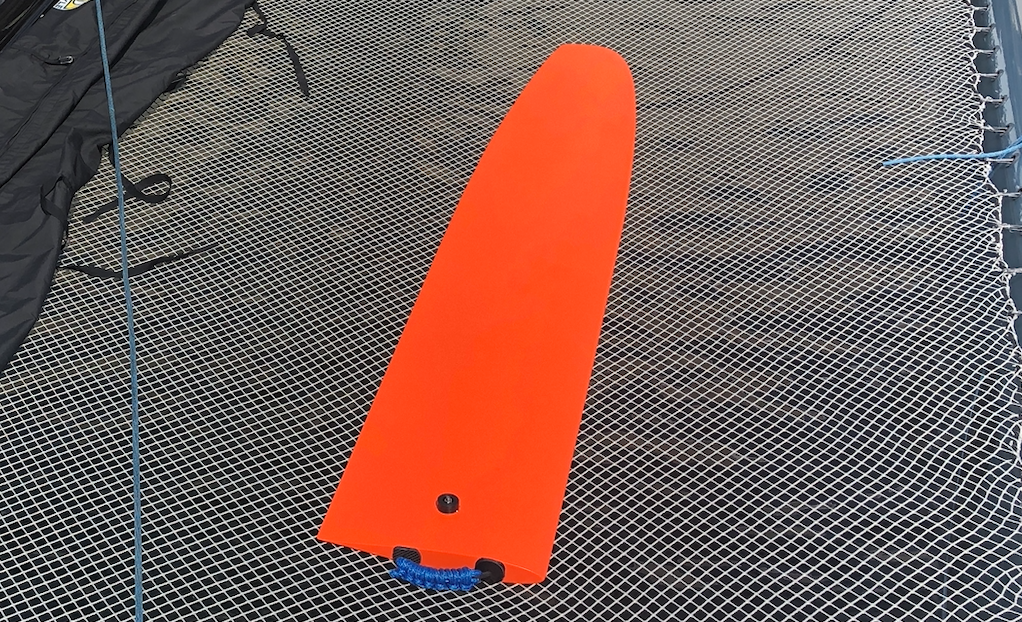 To be able to use the rudders also in raised status, they sit in an elaborated rudder bearing bucket.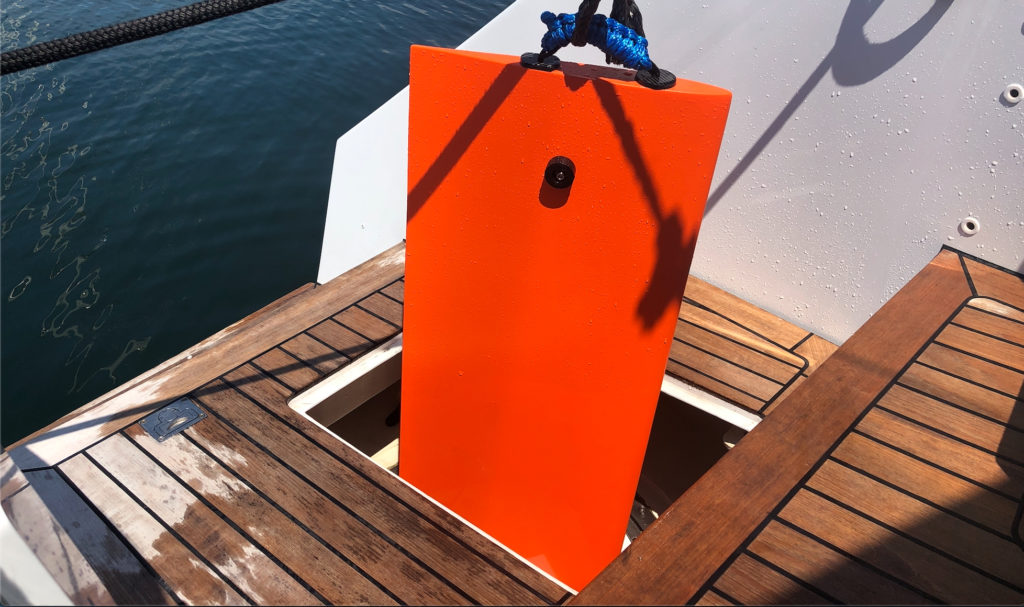 Last summer we have done a complete swap of the rudder bearings as the ones we got before were a complete "failure" – the feeling at the helm was very stiff and heavy. 
Now we have nice "titanium/ceramic" rudder bearings, two discs on each side that are connected via a carbon drum. The top one has a diameter of about 28 inch/71 cm to give you an idea of size. The rudder sits in the middle and can be lifted and blocked in place in shallow waters. I have attached a schematic for you to have a visual. There are two "races", an inner and an outer one with bearing balls in the middle that are fitting in bearing cage to avoid friction between the balls themselves. The bearing cage is 3D printed carbon and the races are titanium [to prevent corrosion and save weight].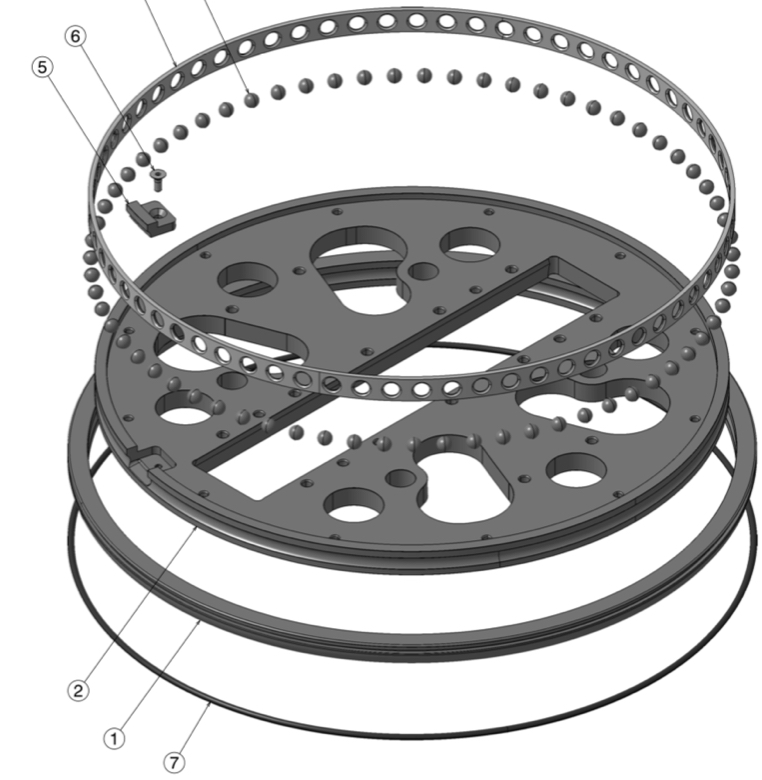 Recently we changed out the little "balls" that make the rings rotate. We swapped them from "torlon – a type of plastic" to ceramic balls and the bearings are spinning so much nicer. Also one reason of failure was the axial loads were underestimated by the engineers. We resolved this by a different ball bearing race section.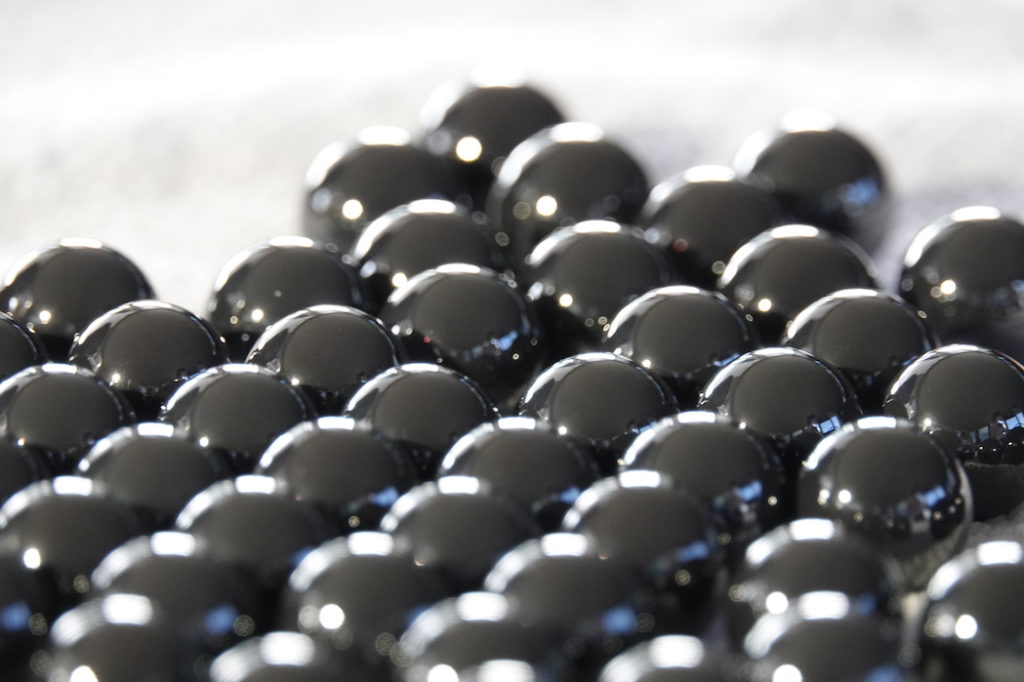 During our recent sailing adventures through The Bahamas and offshore from Turks & Caicos to Sint Maarten, we have tested the steering with retracted rudders and in fully down position. The feeling at the helm is amazing. We have never had such a nice hand steering experience before. We almost never used the autopilot as it was such a pleasure to hand steer [even with one hand & a drink in the other one for some].
We are now doing some tweaks to finalize them like slight improvements to the cage in order to facilitate assembly during maintenance. 
For all this development we want to thank David who has been "The key" partner in designing the assembly and Anthony for the machining work to make our steering system a full success.
Please let us know if any questions and let us know your comments below.