Like for most, 2020 didn't work out as originally planned but it definitively was a memorable year on board Moonwave.
The year 2020 started with cruising the Exumas and the Southern Bahamian Islands. [Moonwave in Bahamas (Dec 2019)]
After a short stop-over in Turks & Caicos we continued upwind towards Sint Maarten/Saint Martin, FWI. [Moonwave in Sint Maarten (Jan 2020)] Luckily this was our last upwind trip for a while ;-)
We did get some work done in Sint Maarten and Guadeloupe during the first two months of the year. We continued with a short trip to Martinique before setting sail in the direction of Panama. The trip to Panama was really amazing as we sailed 1200 nm without using a drop of fuel. [Delivery – we did it again…] Regeneration and Solar did a great job to keep our batteries full during this trip. But it was a windy and bumpy ride, the pinnacle was when passing close to Cartagena about 30 nm off the coast of Columbia. Our trip also got mentioned in the famous Multihull / Multicoques Magazine. [Moonwave featured in magazines… (May 2020)]
In March we experienced a "bucket list" event: we have been crossing the famous Panama Canal. [Atlantic to Pacific – crossing of the Panama Canal].  Once we arrived on the Pacific side, the world started to freak out and from our perspective everything seemed to stand still. When leaving Panama northbound towards Costa Rica, little did we know that we would never set foot ashore in this beautiful country.
We spent almost three months at anchor in a quiet bay in the North of Costa Rica. [Lifeabord, Lockdown & Autonomie] We missed social contacts but Moonwave behaved very well. We were also blessed with lots and lots of "magic" Pacific sunsets. [ABC of Quarantine at Anchor (March to June 2020)] 
Once French Polynesia started to open their borders [with special derogation], it was time to hoist the sails again. We headed westbound towards more sunsets [Sebastien in secret was hoping that by the arrival I got my dose of sunset pictures, but I guess this will never happen]. Our originally planned trip to cruise the Galapagos Islands could not happen but we did a 48 h stop-over at anchor where we were not allowed ashore. Also nobody was able to come and join us for the sail across the Pacific Ocean like originally planned. [Darwin to Gaugin (July 2020)] 
We made it across the Pacific safely and "fast" as 14 days later we could admire the skyline of Nuku-Hiva on the horizon. After a total 116 days non-stop on board Moonwave we were allowed to set foot ashore and walk on land again ["what a nice feeling"]. Nuku Hiva welcomed us with kindness and amazing landscapes. [Landfall in Nuku Hiva (July 2020)] 
On the way from the Marquesas Islands to Tahiti, we stopped in the Atoll of Fakarava. An other great memory and a destination definitively not to miss – such incredible beauty above and below the water surface. [The Atoll of Fakarava (July 2020)] 
Tahiti treated us well and we got a lot of work done and enjoyed the French Polynesian Lifestyle. We have to admit, that we felt in "love" with this beautiful Archipelagos, its numerous islands and local population. We will be back one day… [Tahiti/Moorea (2020)] 
Beginning of October we set sail again across the western half of the Pacific Ocean. In short this was a much longer trip than the first sail to French Polynesia. We did it in one trip as unfortunately all the Pacific Island Nations had their borders closed. [West Pacific Crossing (Oct 2020)]  
And then we sailed through the famous Torres Strait to enter the Indian Ocean. [Pacific to Indian Ocean (Nov 2020)]
This year Moonwave tasted the salty water of 3 different oceans, [Caribbean Sea is part of the Atlantic Ocean, Pacific Ocean & Indian Ocean] – not bad for a "strange" year.
To sum up, we sailed more than 15.000 nm [around 27 780 km] in one year and more than 35.000 since April 2018 [refit in France]. Most miles in 2020 have been sailed double handed. We are very proud of Moonwave to have brought us that far and to spend so many nights at sea and at anchor [without assistance]. Moonwave just sails beautifully [also in light winds] and this has been an incredible experience. 2020 had its moments but the great memories stay forever…
Our journey across the Indian Ocean will continue in 2021 and we are looking forward to more beautiful sunsets & sunrises at sea… [By the way, Seb's hope for less sunset picture will not be fulfilled, sorry Seb we keep heading West.]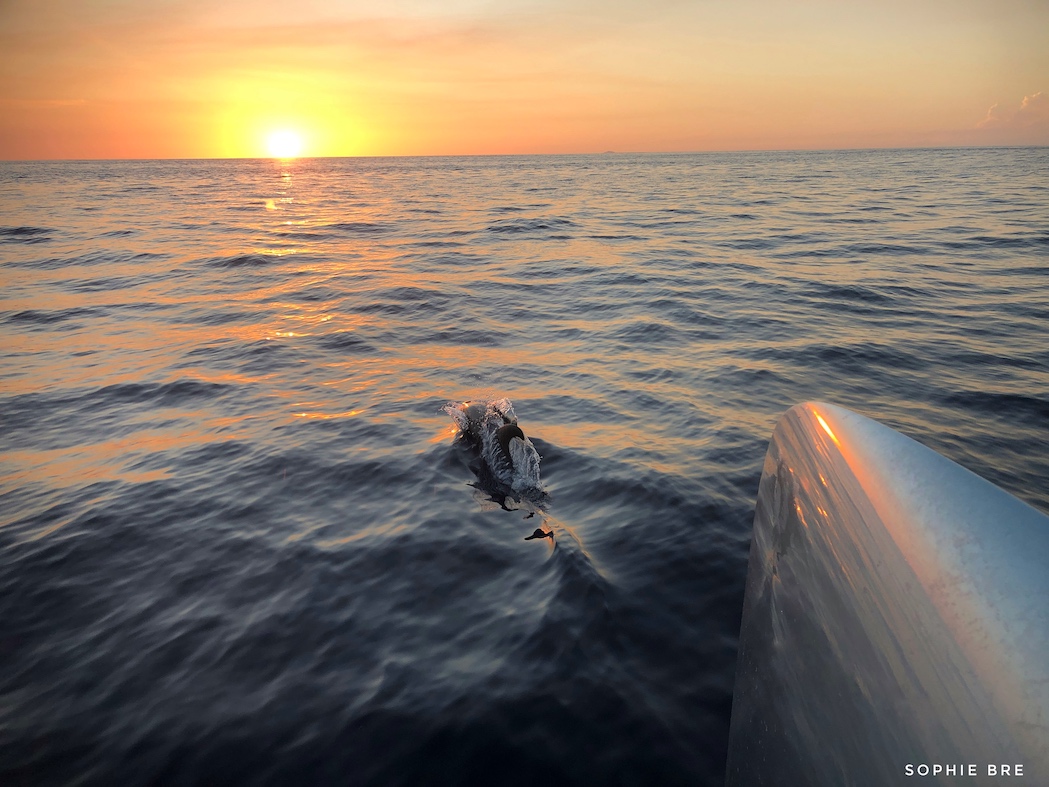 For more travel testimonies and feedback and Moonwave's special features, please check out: www.moonwave.com/news
You can find more pictures and information in the corresponding blog articles mentioned above…
P.S. I just noticed that our year was well "documented" – let us know in the comments which is your favorite chapter :-)